What is a Bone marrow transplant?
Bone marrow is a spongy material in the centre of the bones that normally make blood cells and each type of blood cell has a different role:
Red cells carry oxygen around the body.
White cells fight infections.
Platelets prevent bleeding.
A bone marrow transplant is performed to replace damaged stem cells with healthy cells. Bone marrow transplant helps in regenerating new cancer-free cells and is also known as Stem cell transplant. Bone marrow transplant benefits people with cancerous (malignant) and noncancerous (benign) diseases. The major goal of BMT is to cure certain types of cancer and diseases. A bone marrow transplant will:
Replace stem cells that were destroyed by chemotherapy
Replace diseased marrow which cannot produce its own stem cells
Provide new stem cells, which can help to find and destroy cancer cells
A bone marrow transplant is not a surgery but it is similar to a blood transfusion. The stem cells may be collected either from your own bloodstream or from a donor. These transplanted stem cells grow and become new and healthy bone marrow. Transplanted stem cells are called the graft. There are different types of BMT depending on the way the healthy stem cells are collected:
Autologous bone marrow transplant – The stem cells can be collected from your own body.
Allogeneic bone marrow transplant – The stem cells can be collected from the donor's body.
Umbilical cord blood transplant – The stem cells can be collected from an umbilical cord immediately after a baby's birth.
A BMT specialist can recommend between AUTOLOGOUS transplant and ALLOGENEIC transplant. This selection depends on the type of disease, the patient's age, overall health and the quality of bone marrow.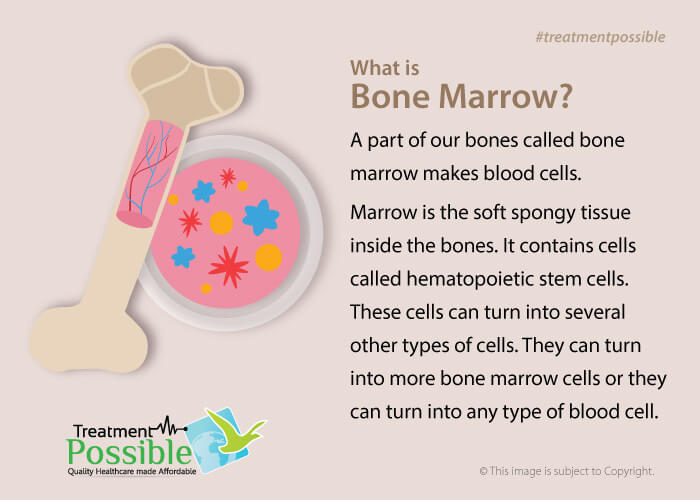 Why does one need a Bone marrow transplant?
You may need a bone marrow transplant if your bone marrow stops functioning and does not produce enough healthy blood cells. Your doctor will recommend BMT for the following conditions:
Blood disorders such as Plasma cell disorders
Bone marrow diseases
Hodgkin's lymphoma
Non-Hodgkin's Lymphoma
Multiple Myeloma (MM)
Acute Myeloid Leukemia (AML)
Chronic Myeloid Leukemia (CML)
Acute Lymphoblastic Leukemia (ALL)
Adrenoleukodystrophy
Bone marrow failure syndromes
Hemoglobinopathies
Neuroblastoma
POEMS syndrome
Primary amyloidosis
Inborn errors of metabolism
Myelofibrosis
Myelodysplastic syndromes
Immune deficiency
Bone marrow damage: The Patient who undergoes chemotherapy may suffer from bone marrow damage. These patients receive treatment using a bone marrow transplant.
Aplastic Anemia: In this disorder, the patient's bone marrow usually loses its ability to create blood cells.
Neutropenia: A genetic disorder that causes chronic infections
Sickle cell anemia: A genetic blood disorder that can cause distorted red blood cells
Thalassemia: It is an inherited blood disorder where the body produces an irregular type of hemoglobin.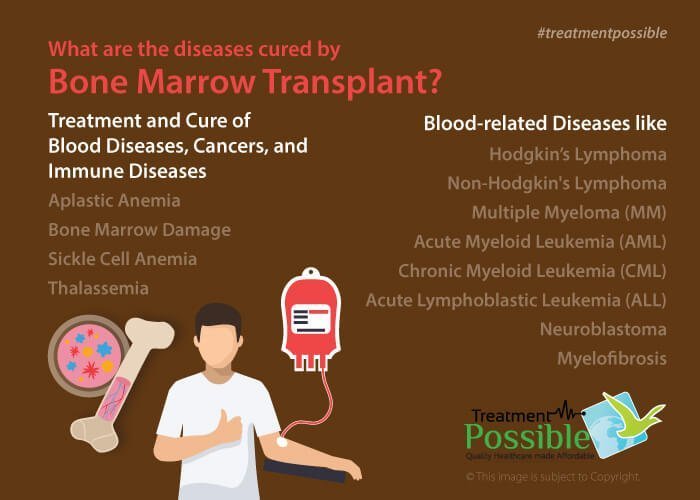 Who can be a bone marrow donor?
A suitable (HLA matched) donor may be:
Matched related donor (MRD) is when a donor is an HLA matched, relative. Brothers/sisters are the most prefered choices for genetic match donors.
Matched unrelated donor (MUD): The HLA matched marrow is from an unrelated donor which are found through bone marrow registries.
Partially matched related – The Donor is from the patient's family but is partially matched.
Haploidentical stem cell transplant – A suitable donor may also be a Parent / Child.
How is a Bone Marrow Transplant performed?
Bone Marrow Transplant is to stimulate new cell growth for the long term and the procedure would be as follows:
Step 1 – chemotherapy medications could be prescribed to kill off abnormal bone marrow cells that are affecting a person's overall bone marrow function.
Step 2 – Healthy stem cells from the donor are filtered from the blood and are injected into the bone marrow of the patient's body.
Step 3 – The patient is monitored for blood pressure and fever.
You will need periodic transfusions of red blood cells and platelets until your bone marrow starts producing enough of those cells on its own. When a person's white blood cell count rises, this indicates that the body is starting to create its own blood and the transplant has been successful. In case the stem cells are from a donor, you will need to take antibiotics and anti-rejection medicines to help prevent the rejection of the donated stem cells. You will need to stay in a hospital for a month until your immune system starts functioning properly.
What are the complications of Bone marrow transplant?
The complications that may arise from a bone marrow transplant are as follows:
Graft versus host disease: This condition is when the donor's cells start attacking your body.
Graft failure: This is when the cells that are transplanted do not produce new blood cells, as expected
Internal bleeding: occurs in major organs such as the brain, lungs, and other parts of the body.
Mucositis is inflammation and soreness in the throat, mouth, and stomach
Cataracts
Infections
Constant diarrhea and vomiting
Organ damage
Infertility
Anemia
Lethargy
Reduced platelet count
Low red blood cell count
Early menopause
Probable lung damage
You could develop another type of cancer
Thyroid issues
What is the Cost of Bone Marrow Transplant in India?
The cost of the BMT is very high in advanced countries. In the USA, Autologous Bone Marrow Transplant cost: USD 360,000. & Allogeneic Bone Marrow: USD 800,000.
But Treatment Possible through its association with Hospitals in India arranges the same Bone marrow Transplant ranging USD 25000 to USD 30000.
Why is India the ideal destination for an affordable Bone marrow transplant?
Treatment Possible is a health consultant company in Mumbai, India that connects patients across the world requiring affordable low-cost health treatment and surgery with the best doctors and hospitals in India.
The Treatment Possible team will ensure that you receive quality treatment from the Hematology Hospital, for Bone marrow transplant in India at the lowest price. This is possible because of our long-standing association with India's best medical institutions. The cost for Bone marrow transplant through Treatment Possible can be 10-20% lower than other hospitals in India and 50-60% cheaper than other countries. 
Treatment Possible ensures that your Bone marrow transplant cost is guaranteed to be among the lowest in India. Our deep understanding of the Indian Healthcare market and our good relations with surgeons of the best hospitals in India enables us to ensure that the cost of your Bone marrow transplant is affordable and transparent.
You get a free consultation with a top Hematologist in India with a hassle-free setup for the test, procedures, recovery, travel, and stay. Send your reports to [email protected] for free opinions and suggestions from the best Hematologist in India.
Frequently Asked Questions:
What is the life expectancy/survival rate of patients after a bone marrow transplant?
The estimated survival of the bone marrow transplant is 85% with a matched sibling donor and 36% to 65% survival with unrelated donors, which means that the patient can have a healthy life for up to 20 years. However, the results of the transplant can vary from person to person.
What are the symptoms of bone marrow disease?
Weakness and fatigue due to shortage of red blood cells (Anemia).

Bleeding and bruising due to low blood platelets (Thrombocytopenia).

Infections are due to a shortage of normal white blood cells (Leukopenia).

Extreme thirst.

Frequent urination.

Dehydration.

abdominal pain.

Loss of appetite.
What is the most common area for bone marrow biopsy?
The large pelvic bone near the hip (posterior iliac crest) is the most common area for a bone marrow biopsy but samples can also be taken from the sternum (breastbone).
In the case of infants, the shin bone (tibia) is the most common spot for a bone marrow biopsy.
What diet should be followed after a Bone marrow transplant?
Eating healthy foods such as vegetables, fruits, whole grains, lean meats, poultry and fish, legumes, and healthy fats, such as olive oil 
Limiting salt intake 
Restricting alcohol 
Avoid grapefruit and grapefruit juice because they affect a group of immunosuppressive medications (calcineurin inhibitors)
Can you walk after a bone marrow biopsy?
After the biopsy site will hurt for several days. Walking, taking painkillers and putting ice packs on the biopsy site can help. You will be able to return to normal activities after the procedure.
Can a blood test detect bone marrow cancer?
Blood cancers can be detected using a Complete blood count blood test (CBC) but a bone marrow biopsy may help to confirm a diagnosis of blood cancer.
Best Hospitals For Bone Marrow Transplant In India
Fortis Hospital - Mulund, Mumbai
Fortis Hospital Mulund is Maharashtra's largest multi-organ transplant hospital. It has completed the 100+ successful heart transplants in 4 years. Fortis hospital Mulund is equipped with the best surgical equipment and experienced surgeons that ensure a successive treatment in the best way possible. The facility now also has central Mumbai's first advanced surgical robot.
No. Of Beds: 315
Speciality: Multi-Speciality
Type of hospital: Tertiary care
Accreditations: 5 times JCI accreditation (quality as per international standards), 5 times NABH accreditation (quality as per international standards)
Accommodation: Easily accessible hotels and service apartments nearby.
Medanta - The Medicity Hospital, Gurgaon
Medanta - The Medicity Hospital, Gurgaon is established in 2008 is one of the asia's first dedicated institute for liver transplant and other treatment for liver and biliary diseases. The Living Donor Liver Transplant program is the largest in India and second largest in the world consisting of a team of highly qualified experienced doctors who have conducted more than 2,500 Liver Transplants with a success rate of 95%.
No. of beds: 1250
Speciality: Super Speciality & Organ Transplant
Type of hospital: Tertiary care
Awards & Accreditations: 3 times NABH & JCL accreditated hospital
Dharamshila Narayana Superspeciality Hospital - Delhi
Dharamshila Narayana Superspeciality Hospital was established in 1994 and is accredited by NABH and NABL. It is India's first and world′s 11th hospital which has performed Haploidentical Bone Marrow Transplantation in an adult sickle cell disease patient. This is the Only hospital in Delhi that offers Third Generation Radiation Technology i.e. Elekta Synergy VMAT with IMRT, IGRT, SBRT and SRS / SRT and Respiratory Gating Capabilities and best Treatment Planning systems like Monaco, CMSxi0, ERGO++ and Plato.
No. of beds: 300
Speciality: Multi-speciality
Type of hospital: Tertiary care
Awards & Accreditations: NABH & JCL accreditated hospital