Cervical Cancer treatment In India
Women with cervical cancer may have concerns about their sexual activity, the ability to give birth and other concerns which are to be addressed while planning the treatment plan. A multidisciplinary team of doctors including gynaecology, an oncologist is on the team to conduct the cervical cancer diagnosis. Surgery is usually the first line of treatment depending on the stage of cervical cancer. There are four cervical cancer stages. The patient should be well aware of the possible complications and side-effects of the treatment where initiating any modality. They should also recognize the warning signs of cervical cancer and seek cervical cancer treatment as soon as possible.
What is the Cost of Cervical Cancer Treatment in India?
Due to our long-standing association, we can ensure the best hospital for cervical cancer treatment in India at the lowest cost for our patients for cervical cancer diagnosis and treatment. We ensure the most advanced Radiation Therapy i.e TrueBeam (LINAC) for cervical cancer treatment.
Yes. I Want To Know More About My Treatment!
Want more clarification about medical expense & treatment plan.
Get An Expert Opinion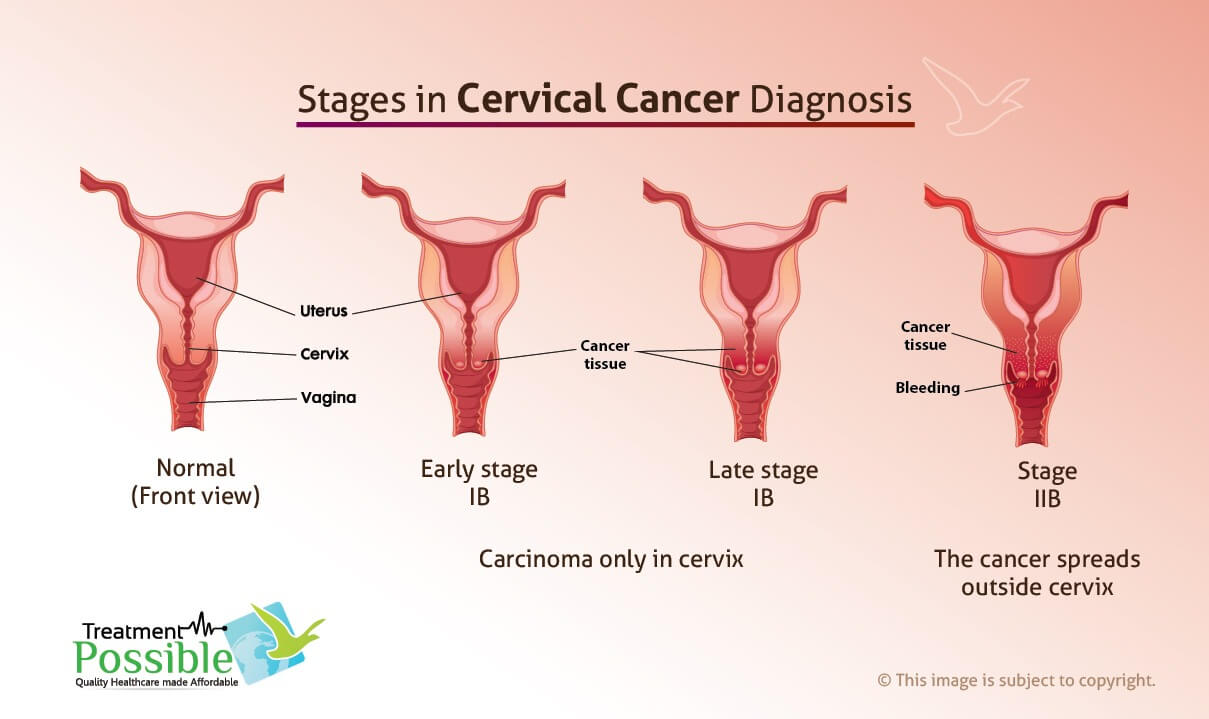 Surgery for Cervical Cancer Treatment in India
Surgery is preferred at cervical cancer stage 1. It is done to remove the cancerous part and some of the nearby normal tissue. In cases where cancer has not spread beyond the cervix, one of the following surgical procedures can be performed:
Conization for Cervical Cancer: It is used in micro-invasive cancer which can only be seen under a microscope. It is like a cone biopsy and removes very early stages of cervical cancer.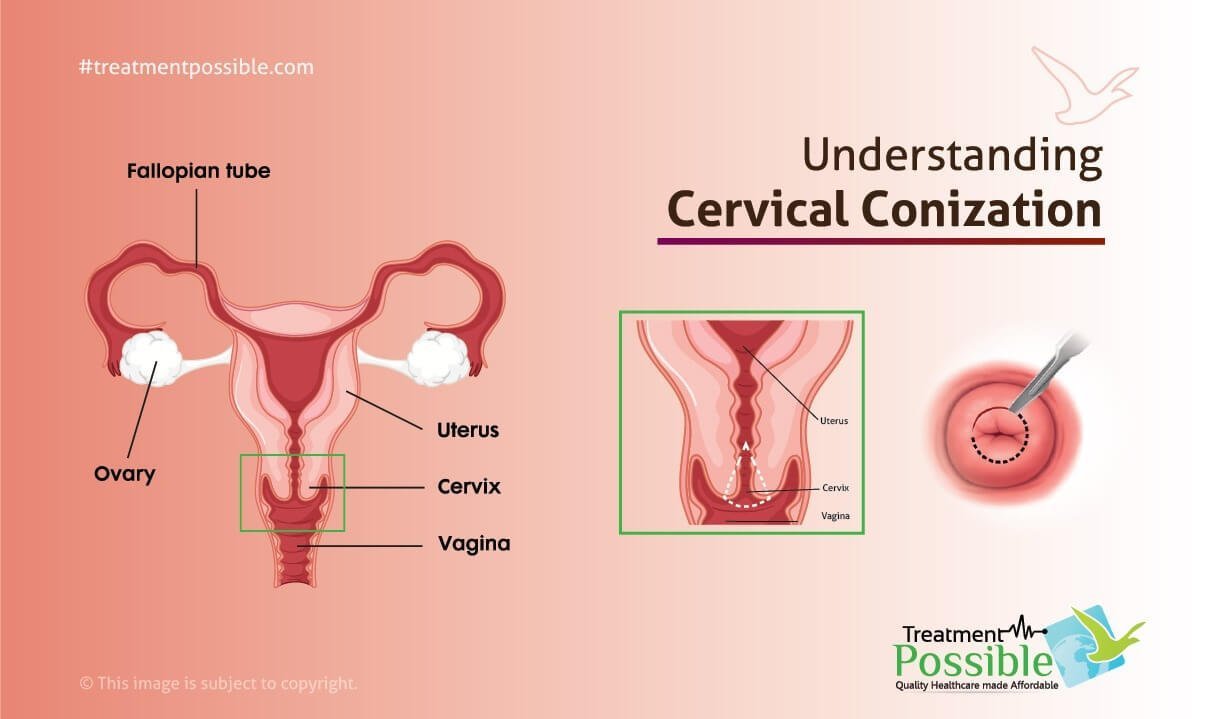 LEEP for Cervical Cancer

: It is the use of small wire passing electric current in it to target the cancer tissue and remove it. Again, it is used in micro-invasive cancers.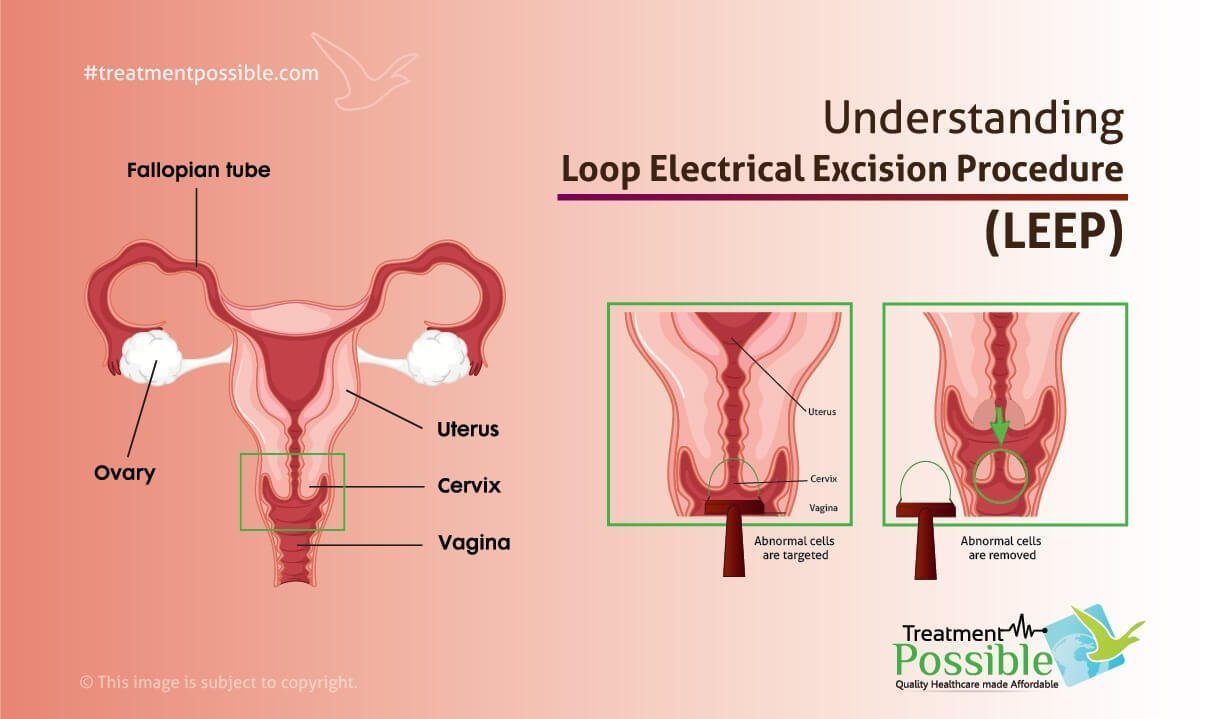 Radical trachelectomy for Cervical Cancer: In this surgical procedure, the cervix is removed but the uterus is not. It is done in those patients who want to have the ability to give childbirth. In this procedure, all the pelvic lymph nodes are removed though.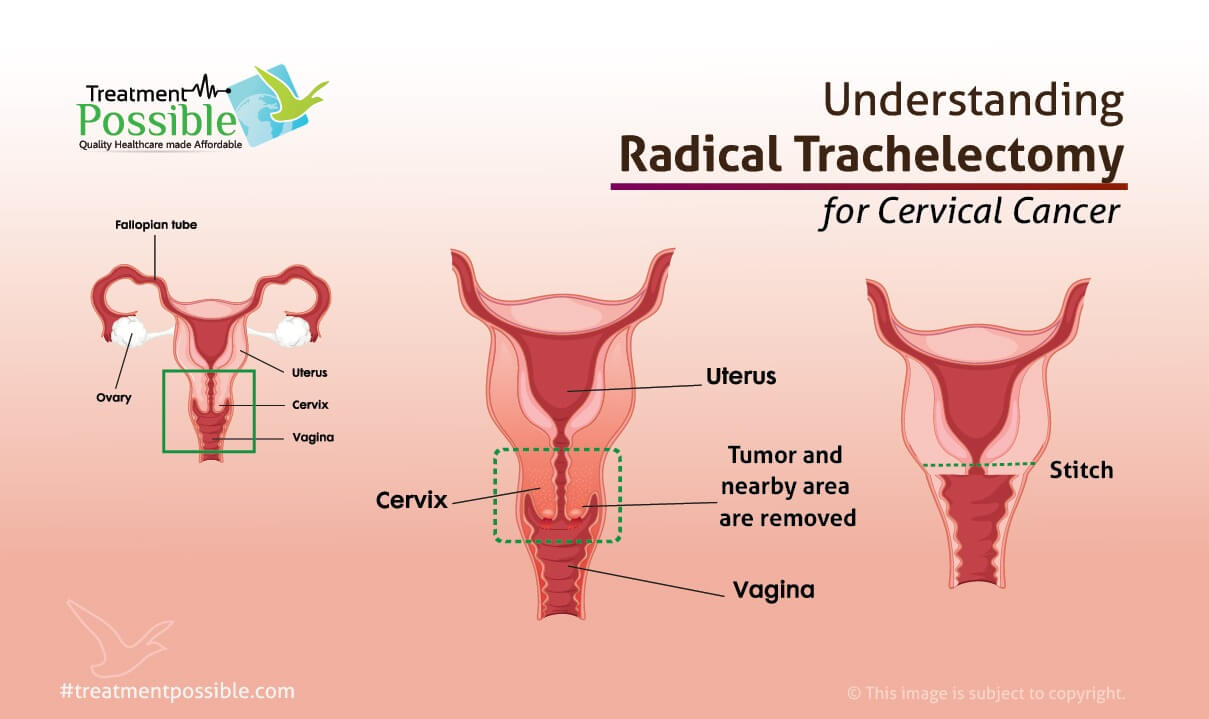 Hysterectomy for Cervical Cancer

: It can be either simple or radical. In the case of less intensive cancers, simple hysterectomy i.e. removal of uterus and cervix is done. But, in cases of higher-grade cancers, a radical hysterectomy procedure is the one in which uterus, cervix, upper vagina and tissue around the cervix are removed. In these cases, a lymph node dissection in the pelvic area is also performed which means all the lymph nodes in the pelvic region are removed.

Sometimes

bilateral salpingo-oophorectomy is also required along with hysterectomy. Here, both the ovaries and fallopian tubes are removed.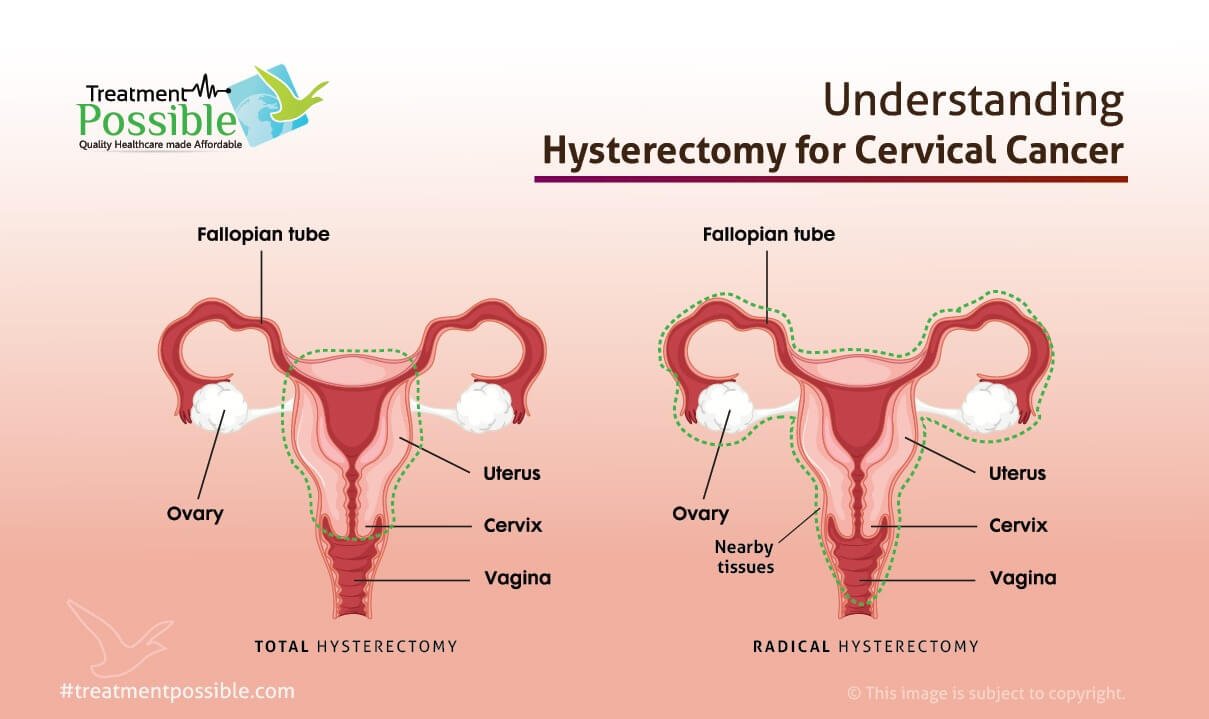 In the patients where cervical cancer has already spread beyond the cervix, the following procedure may be used:
Exenteration for Cervical Cancer: It involves the removal of vagina, uterus, lower colon, rectum or bladder. All these if cancer has spread to these organs. It is mostly done in recurrent cases of cancer.
All of these surgical procedures may affect the sexual health of women. So, before going for any surgery, you should clear all your doubts with the doctor.
Radiation Therapy for Cervical Cancer Treatment
A radiation oncologist plans the radiation therapy schedule for the patient. It can be planned before surgery to shrink the size of cancer before its surgical excision. It is also continued after the surgery. Most commonly external beam radiation therapy is used. Internal therapy includes Brachytherapy in which the radiation is given by inserting a radiation-emitting device through the vagina.
The approximate cost of Radiotherapy for cervical cancer treatment is USD 2500.
Chemotherapy for Cervical Cancer Treatment
Uses medicines to kill the cancer cells and is usually given before the surgery to reduce the size of cancer. It is also continued after surgery in some cases. These medications do not differentiate between the normal and the cancer cells. So, the most common side effects are:
Temporary hair loss

Taste sensation loss

Nausea and vomiting
The approximate cost of Chemotherapy for cervical cancer treatment per cycle is USD 450.
Other Treatment Options for Cervical Cancer Treatment in India
Other treatment options available for cervical cancer treatment include hormonal therapy, biological therapy, targeted therapy etc.
Get Free Consultation with chosen Top Cervical Cancer specialist in India with hassle-free arrangements for post-operative recovery care, travel & stay. Check out more valuable information about Ovarian Cancer treatment in India.
---
Best Hospitals For Cervical Cancer Treatment In India
---
Tata Memorial Hospital, Mumbai
Tata Memorial Centre (TMC) is a comprehensive tertiary care centre for cancer in India. Established by the House of Tatas in the year 1941. It is a specialist cancer treatment and research centre, closely associated with the Advanced Centre for Treatment, Research and Education in Cancer (ACTREC). The Centre is the national comprehensive cancer centre for the prevention, treatment, education and research in cancer and is recognized as one of the leading cancer centres in this part of the world.
Mahatma Phule Charitable trust (A Surana Associate) is a multispecialty hospital with 100 beds at Navi Mumbai. MPCT Hospital is the second-largest hospital in Navi Mumbai. MPCT hospital has the most advanced PET Scan of GE, which is used for diagnosis and treatment of cancer. The hospital offered the most advanced linear accelerator of the world called as true beam for the treatment of cancer. It has 24 Channel brachytherapy for the treatment of cervical cancer & breast cancer.
Apollo Hospitals, Chennai
The leading hospital of the Apollo Group was built up in 1983. The hospital has more than 60 divisions initiated by universally prepared specialists, the best-in-class hospital for different wellbeing issue and forefront therapeutic strategies, that makes it the most favoured goals for patients across India and around the world.
Gleneagles Global Health City, Chennai:
Gleneagles Global Health City has a capacity of over 1000 beds and accreditations from leading agencies, the facility is Asia's most trusted and leading Multi-Organ Transplant Centre. World-class infrastructure, dedicated staff and a commitment for medical excellence are the USPs of this facility. Global Team of doctors performs 18,000 surgeries every year. The advanced facilities are TrueBeam STx and Robotic interventional pain management. TrueBeam STx is the world's most advanced linear accelerator for radiotherapy delivering most accurate & precise radiotherapy for Cancer treatment.
Medanta The Medicity Hospital, Gurgaon
Medanta – The Medicity Hospital, Gurgaon is established in 2008 and it is a NABH and JCI accredited facility. Medanta Hospital was founded by a renowned Cardiovascular and Cardiothoracic surgeon, Dr Naresh Trehan and is both NABH and NABL accredited. It is the first hospital in the country that offers Robotic Surgeries in Cardiology, Urology and Gynaecology. It is also Awarded as the Best Multispecialty Hospital by Asia's First Bloodless Bone Marrow Transplant HealthCare Global Enterprises (HCG) in 2010.