Verified By: Dr. Rakesh Rai (American Society of Transplant Fellowship, MD, FRCS, CCST) |Updated On March 4, 2020
Plan Your Liver Transplant in India:
The liver is one of the vital organs in our body which performs various important functions in our body like filter our blood from harmful toxins, it helps to produce proteins necessary for blood clotting, it produces bile juice necessary for digestion, etc. Liver Transplantation is the surgical procedure to replace a damaged liver with a healthy liver from a donor. This is done when your liver is damaged beyond repair and when it ceases to function or malfunctions, then the patient has to look at Liver Transplant. India is one of the leading nations where you can undergo a liver transplant at a low cost with no compromises in the quality of treatment. This article helps you in understanding the cost, preparation and procedures to be followed while undergoing a liver transplant in India.
What are the causes of liver damage in adults and children?
In Adults, cirrhosis is the most common condition causing irreparable damage to Liver. Cirrhosis causes deterioration of the liver. It blocks blood flow through the liver and causes malfunctioning of the Liver. Cirrhosis can be caused by a viral infection such as Hepatitis B & C, excess alcohol abuse, fatty liver or an autoimmune disease of the liver.

Liver cancer or other cancer leading to metastasis in liver

Primary biliary sclerosis

Genetic Liver disease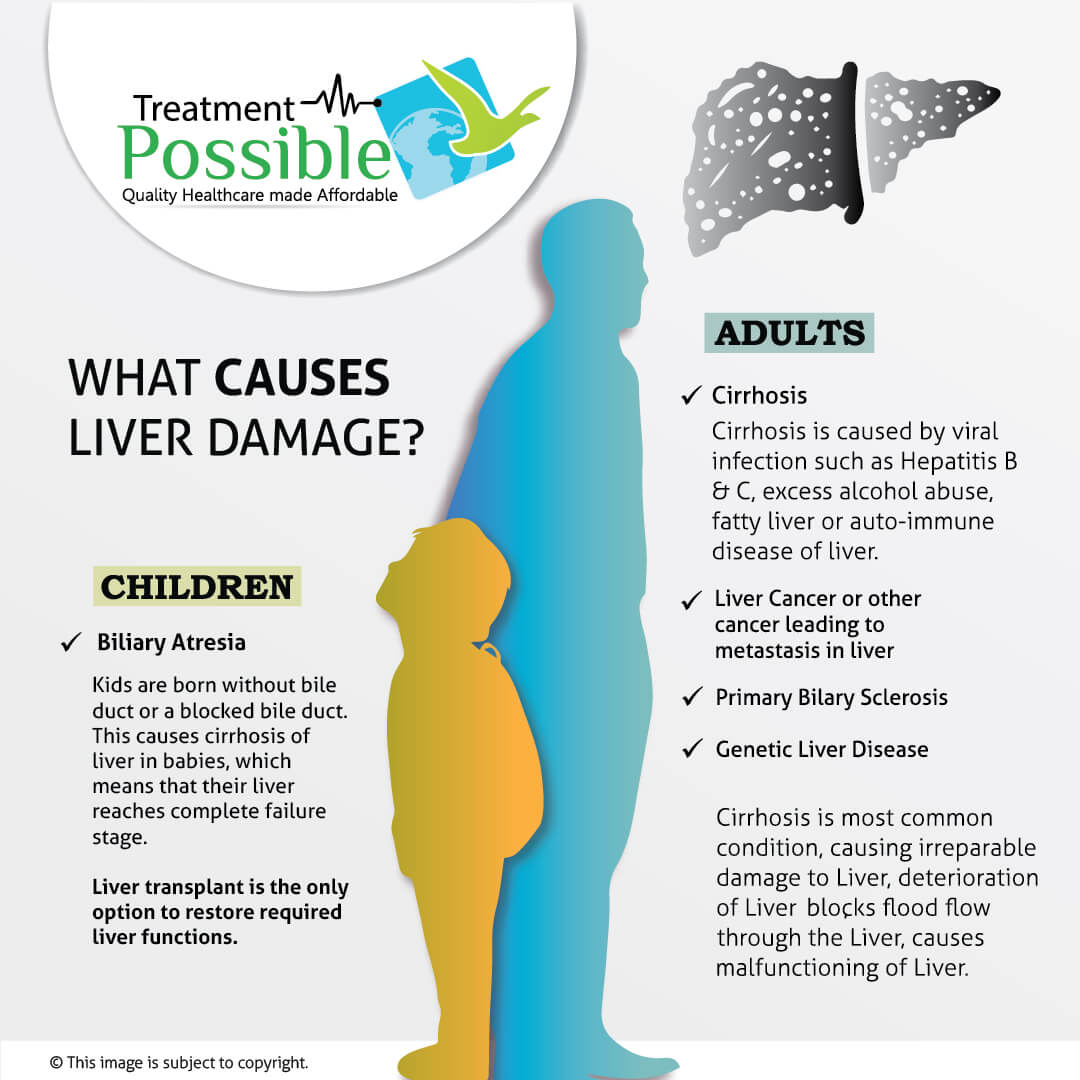 Causes of liver damage in children are as follows:
In children, the most common cause of the irreparable liver disease is biliary atresia. In biliary atresia, kids are born without bile duct or a blocked bile duct. This causes cirrhosis of the liver in babies, which means that their liver reaches complete failure stage. Thereafter Liver transplant is the only option to restore required liver functions.
How to determine if a Liver patient is eligible for a Liver Transplant?
A battery of investigation needs to be carried out to determine if a patient is eligible for a Liver Transplant. Firstly surgeons need to rule out any probable cause of future liver damage. After that they will require multiple test reports:
X-ray and computed tomography.

Doppler ultrasound to study blood flow to and from your liver.

ECG, stress test and other cardiac evaluation to check cardiac fitness.

Pulmonary Function Test.

And complete haematology (blood) study.
Once it is determined that a patient is fit to undergo Liver, a fit and matching donor needs to be found.
Who can donate liver for transplant in India?
A patient can receive a liver from a live donor or a deceased donor. Let's understand both the donor option:
Living Liver donor: A living donor can be a family member or close friend who can be a matching donor. The willing donor needs to approximately match the liver size and should be of compatible blood type. Fortunately, no complex match like tissue or cell needs to be done. The donor is not at a permanent loss. The liver grows back to its size within 6-8 weeks. Which means the donor's quality of life is not compromised. Donor saves a life and lives.
Cadaver or deceased donor: A deceased person's liver can be transplanted to an adult patient. In cases of acute liver disease, the patient will need a complete liver which can only be sourced from a deceased person. Treatment Possible works with the hospital across multiple states in India. We can find out currently which state in India has the lowest waiting list of liver patients. Accordingly, we can advise on choosing a state and hospital in that state which has the lowest waiting time.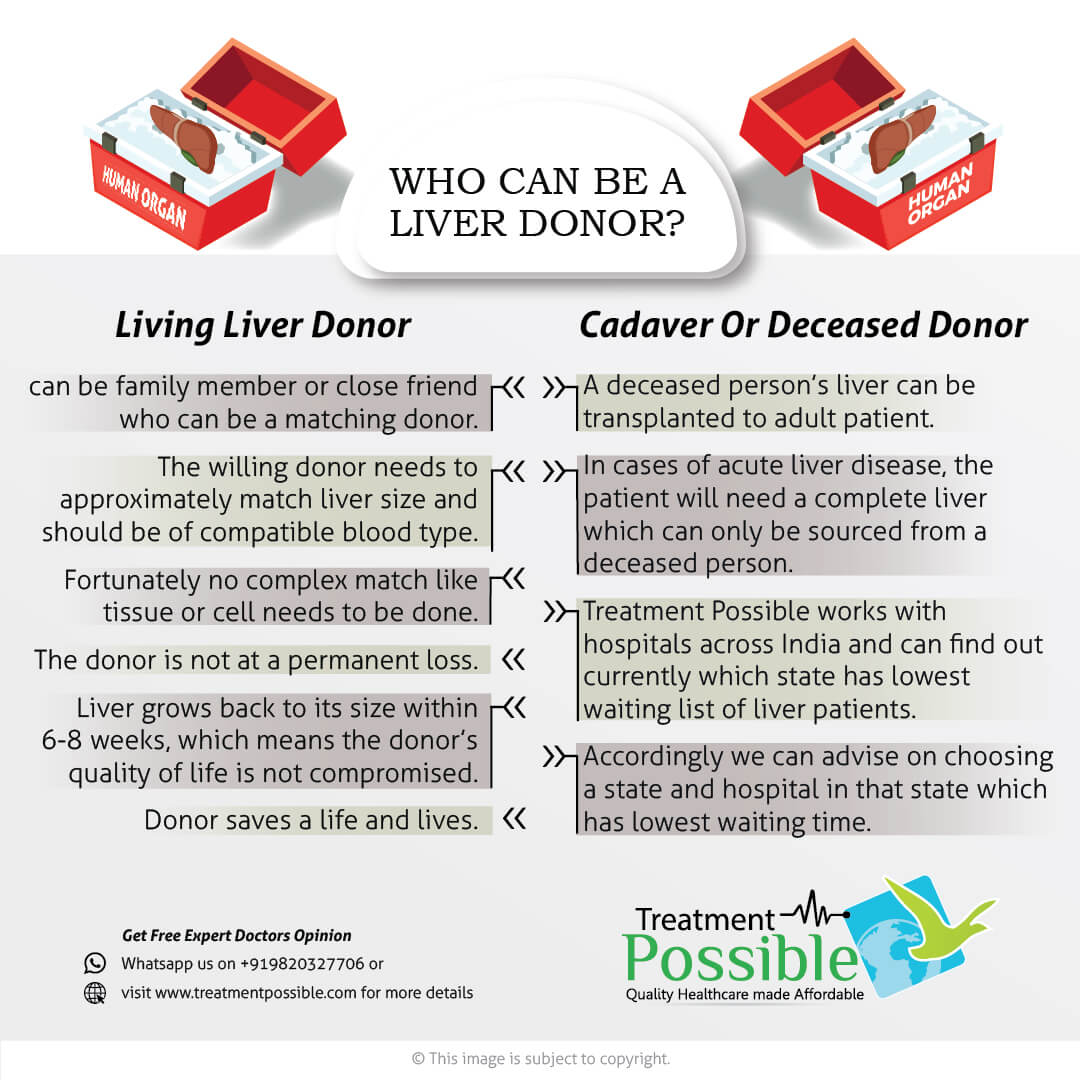 How to get cadaver or deceased liver donation in India?
After your complete medical evaluation, if you are eligible for a liver transplant then you can become an active liver candidate. Your name will be placed on a waiting list according to your blood group, body size and medical condition. Each waiting list candidate is given a score based on their blood tests. The score is known as the MELD (Model Of End-Stage Liver Disease) score in adults and PELD (Pediatric End-Stage Liver Disease) in children. Depending on your score, you will be prioritised. This score is revised regularly. In case your blood test reveals that your liver has further deteriorated then your score will go high. Accordingly, the candidate goes up in the list and has a better chance of being chosen as a recipient.
While you wait for your turn to receive a liver, we make sure that you are regularly examined by surgeons so that your health can be maintained. We make sure that you are not charged extra during your waiting time.
What is the procedure of a Liver Transplant Surgery?
The Procedure For Liver Transplant Surgery is as follows:

The liver transplant procedure or operation can last between 6 hours and 12 hours and is done under general anaesthesia.

Your surgeon will make a long incision across your abdomen. He will disconnect the blood supply to and from the liver and bile ducts and then remove the liver.

The liver transplant surgeon will replace it with the donor's liver and reattach the bile ducts and blood vessels to the new liver.

He will then place staples and stitches to close the incision.

If your liver is from a living donor, the liver transplant surgeon will remove a portion of the donor's liver.

He will then remove your diseased liver and place the donor's liver in your body, and connect the bile ducts and blood vessels.

That is how the liver transplant procedure works. The liver is your body and that in the liver transplant donor's body will quickly regenerate within a few months to its full volume.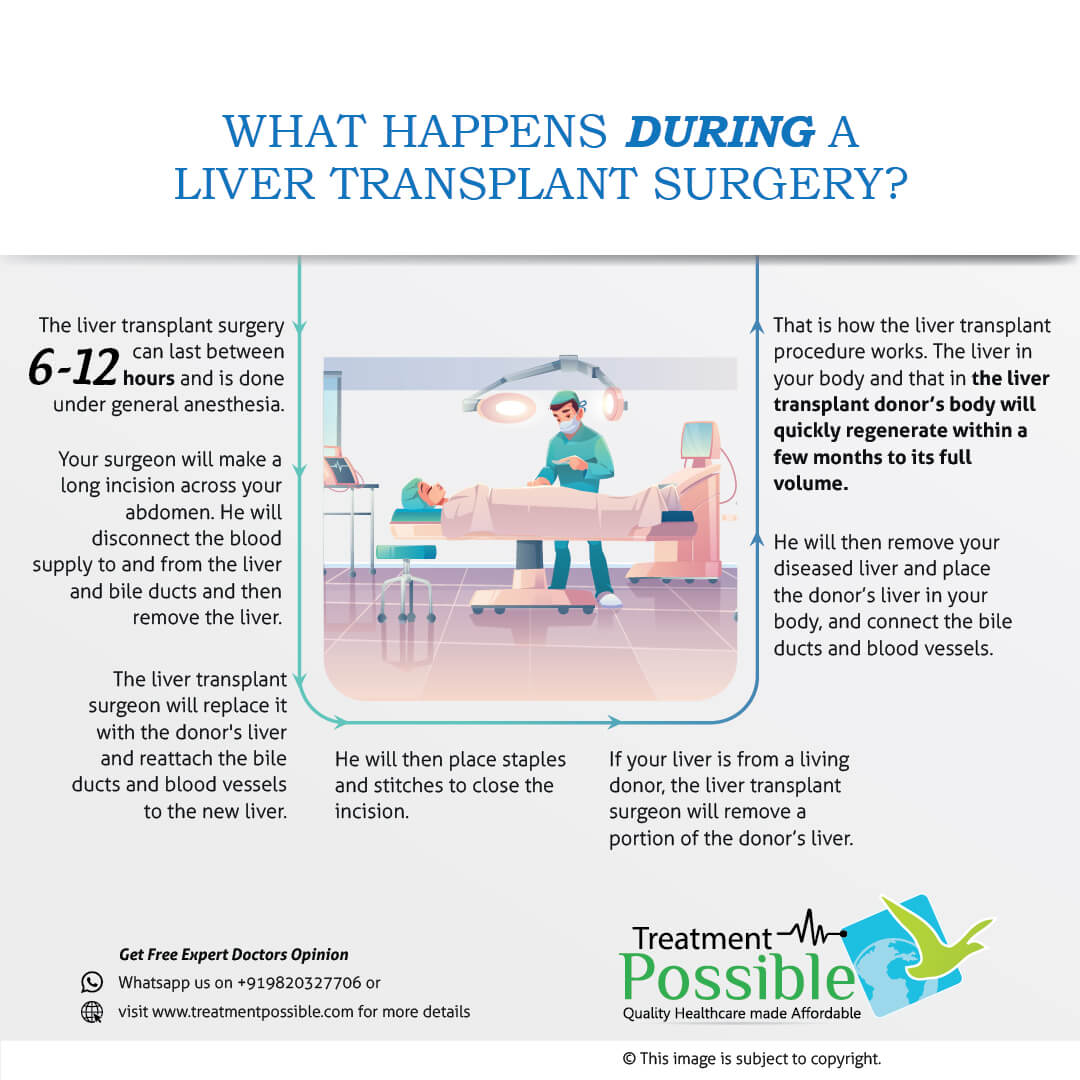 What is the success rate of Liver Transplant in India?
In India, the success rate of Liver transplant has been 90%. But like any other transplant, liver transplant has its very own risks and complication.
What is the cost of Liver Transplant In India?
The table below shows the cost (USD) comparison for liver transplant surgery in various countries:
Compared to any other medical destination India offers the lowest cost for liver transplant surgery. The cost of Liver Transplant in India is USD 28500. You will get the entire package of pre-surgery investigation, surgery for the patient, surgery for the donor, hospital stay in private room and medicines. Please email us your query for detailed surgeon's opinion and cost. Email: care@treatmentpossible.com
| Total Cost of Liver Transplant Surgery (USD) | Length of stay In India | Cost of stay in hotel (USD) | Service Apartment Cost | Source of Liver Donor |
| --- | --- | --- | --- | --- |
| | | | | Living (Relative) or Deceased |
What will be the cost of accommodation in India during a Liver Transplant?
You need to be aware of the length of stay and upkeep cost while in India. The hospital provides stay only after surgery. While your total stay in India will be for 2 months if your donor is available. But if you have to wait for a deceased person's liver then your wait can be anywhere from 1 month to 6 months. There will be 3 people in total travelling considering a caretaker. If you stay in a hotel then it will cost you a minimum of USD 55 a day. Which means USD 1650 a month. Additional to daily food which will be USD 15 per day minimum.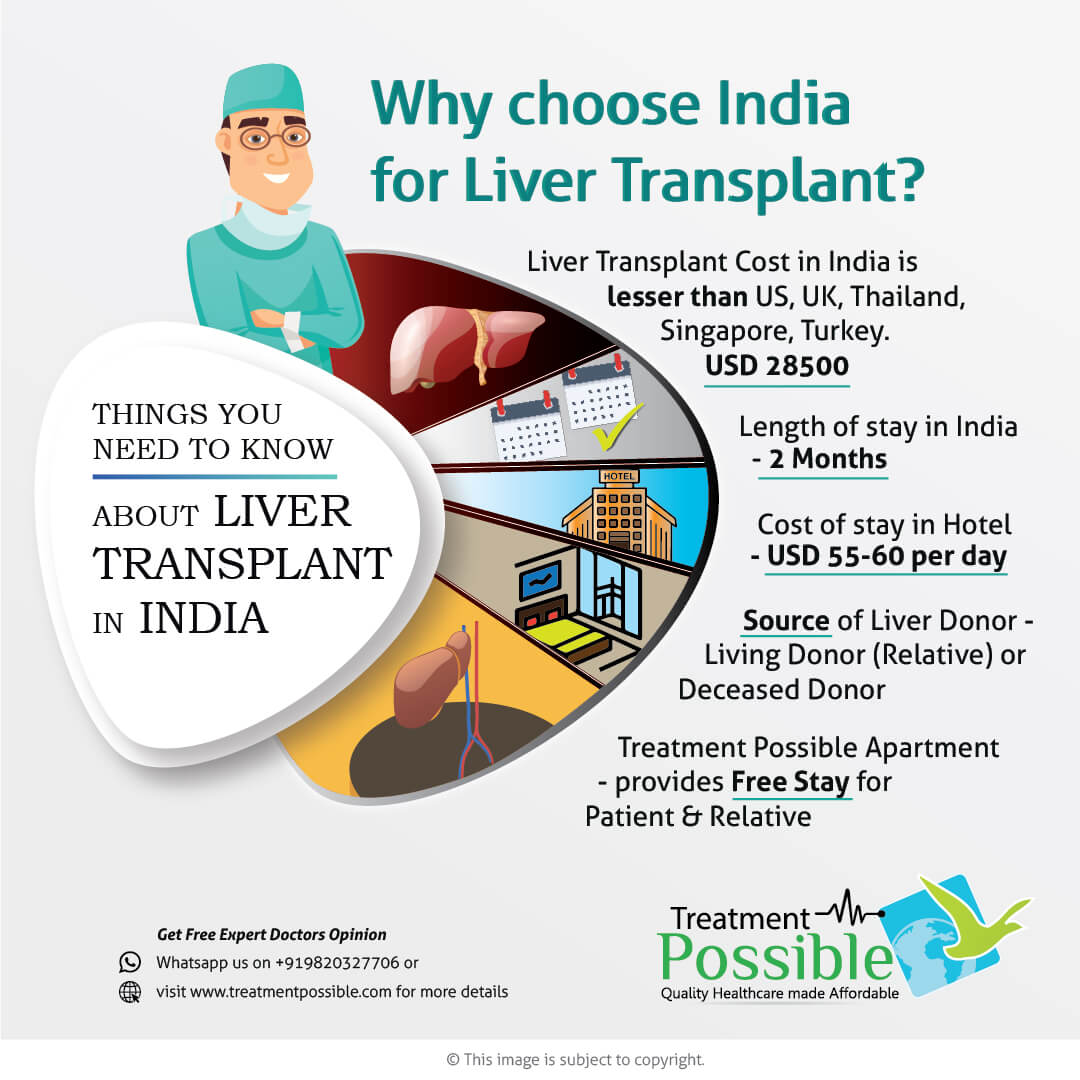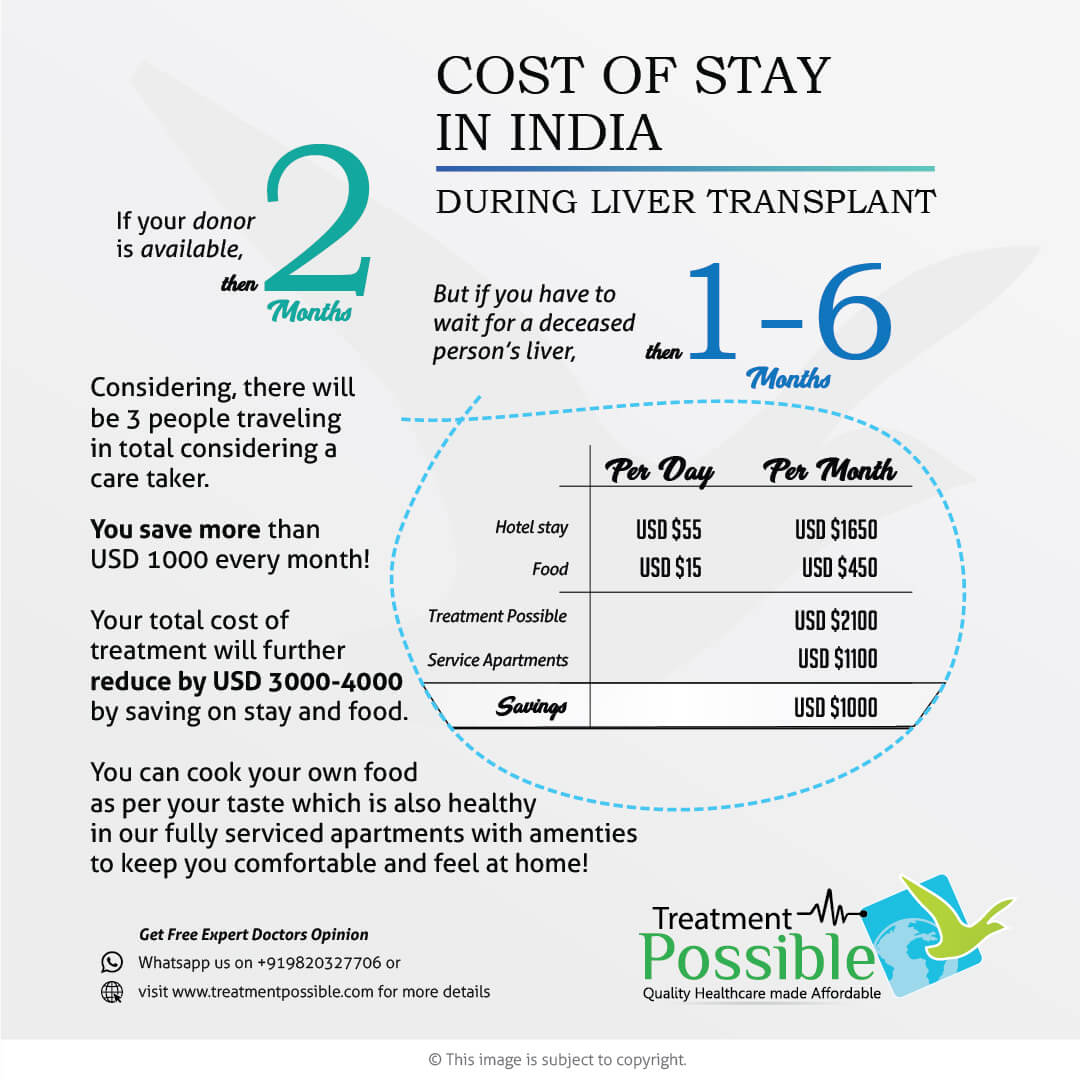 | Days in hospital | Cost of stay in hotel(USD) | Cost of stay in service apartments(USD) | Duration of stay after Transplant | Total duration of stay In india |
| --- | --- | --- | --- | --- |
| | | | | |
That's is why Treatment Possible provides free accommodation in our service apartments for patients. You can cook your own food to your taste which is also healthy. We help you save USD 35 each day. Which means you save more than USD 1000 every month. Your total cost of treatment will further reduce by USD 3000 to 4000 by saving on stay and food.
What are the chances of rejection in Liver Transplant?
Like any other organ transplant, Liver transplant also carries the risk of rejection. Our body will see the new liver as a foreign object. Therefore our immune system works against the new liver. It can occur rapidly or gradually over some time. Therefore anti-rejection medicine is given before and after the surgery to suppress the immune system from attacking the liver. The anti-rejection drug continues for life in most of the cases but it is a low dosage. You should always be alert to symptoms of rejection like fever, fatigue, chills, nausea and jaundice. If detected early then it can be managed. This can happen even after years of transplant.
Can a person resume normal life after a Liver Transplant?
In one word, Yes. With-in 3-4 month of your liver transplant surgery you can return to normal life. But you can't take your health casually after an organ transplant. Your diet needs to be as per dietician's advice. And you should minimise or abstain from alcohol. Your work, exercise and sex life will be normal as any other average person. You will surely benefit from liver transplant surgery and regain your normal life.
What are the Diet and nutrition plan advised after Liver Transplant?
Eating a well-balanced diet is especially important after liver transplant to help you recover and keep you healthy. We will ensure that hospital dietician will provide you diet chart that Liver transplant patient should consume to ensure the health of his/her liver. In general, your diet after liver transplant should be low in salt, cholesterol, fat and sugar. To prevent damaging your new liver, it's important to avoid alcohol. Do not drink alcoholic beverages or use alcohol in cooking.
Best diet practise after transplant includes:
Eat at least five servings of fruits and vegetables each day

Avoid fruits like grapefruit and grapefruit juice, pomegranates, or Seville oranges due to their effect on a group of immunosuppression medications.

Have enough fibre in your daily diet

Avoid all kinds of processed food

Maintain optimal calcium and phosphorus levels

Eat lean meats, poultry and fish

Follow food safety guidelines

Stay hydrated by drinking adequate water and other fluids each day
What about Exercise after Liver Transplant?
Purpose of the transplant is to resume a normal life. But exercise is required to achieve and maintain a good life. Exercise and physical activity should be a regular part of your life after a liver transplant to continue improving your overall physical and mental health.
Our physical therapist can also talk with you about finding an appropriate exercise program to follow at home. Soon after your transplant, you should walk as much as you can. Then, depending on your progress, the therapist shall add more exercise to suit your body. Swimming is advised as it is low impact exercise. But be sure to check in with your transplant team before starting or changing your post-transplant exercise routine.
Best Liver Transplant Surgeons in India
Dr. Darius F. Mirza
Liver Transplant Surgeon
Dr Prof Darius F Mirza is a practising Hepatobiliary Surgeon with an experience of 36 years. Some of the services provided by the doctor are Hepatitis D Treatment, Liver Disease Treatment, Hepatitis B Treatment, Hepatitis A Treatment and Hepatitis C Treatment etc.
Dr. Arvindar Singh Soin
Liver Transplant Surgeon
Dr Arvinder Singh Soin leads India's largest and one of the world's most successful liver transplant programs at Medanta Hospital. For 21 years, he has performed 2500 liver transplants with a 95% success rate and more than 12000 other complex liver, gall bladder and bile duct surgeries.
Prof. Mohamed Rela
Liver Transplant Surgeon
Prof. Mohamed Rela started the "Institute of Liver disease and transplantation" at Global Gleneagles health city. He has performed over 4000 liver transplant surgeries.
Dr. Rakesh Rai
Liver Transplant Surgeon
Dr Rakesh Rai is a Senior Consultant Surgeon who trained extensively in hepato-biliary-pancreatic surgery and solid organ transplantation (liver, kidney and pancreas).
Best Hospital In India For Liver Transplant:
Fortis Hospital - Mulund, Mumbai
Fortis Hospital, Mulund is a 5 times JCI accredited, 315-bed multi-speciality tertiary care hospital providing a range of diagnostic and treatment services and is a leading integrated healthcare delivery service provider in India.
Artemis Hospitals - Gurgaon, Haryana
Artemis Hospitals is a leading medical speciality centre in Gurgaon. They have image-guided radiation therapy, digital x-rays, ultrasound systems, CT scanners, Video Bronchoscopy System, Cancer Screening Mobile Van, Laser Hair Reduction, and much more.
Frequently Asked Question (FAQ)