Treatment for Ovarian Cancer in India
It is devastating to hear the news of cancer, but a good treatment plan can be a lifesaver. Ovarian Cancer Treatment in India is planned and carried out by a team of professionals with a multidisciplinary approach. Any particular treatment plan chosen for you will depend on many factors like your age, general health and more specifically on the type and stage of cancer.
What is Ovarian Cancer?
Ovarian cancer is cancer that begins in the female organs that produce ovaries. It is a form of gynaecological cancer along with uterine cancer and cervical cancer. When abnormal cells in the ovary begin to multiply out of control and form a tumor, it is termed as 'ovarian cancer'. Studies show that ovarian cancer the 5th most common cause of cancer deaths in women as well as the 10th most common cancer among women in the United States. According to the World Cancer Research Fund (WCRF) global cancer statistics, ovarian cancer is the 18th most common cancer worldwide. Breast cancer is 2nd on the list (1st for women), and Treatment Possible offers assistance for that as well so view more on breast cancer treatment. Also, Serbia, Brunei, and Belarus are the top 3 countries most affected by ovarian cancer.
Ovarian Cancer Causes and Symptoms
Ovarian cancer usually begins in the outer lining (epithelium) of the ovary. Risk factors and causes for ovarian cancer include old age, reproductive history, obesity, contraceptives, fertility drugs, hormone therapy, and family history. The symptoms are similar to those for PMS and irritable bowel syndrome. They include, but are not limited to:
Pelvic, back, intercourse, and lower abdominal pain
Frequent urination
Nausea
Heartburn / indigestion
Breathlessness
Tiredness
Loss of appetite
Fortunately, there is a treatment for ovarian cancer.
Cost of Ovarian Cancer Treatment
Due to our long-standing association, We are able to ensure the best hospitals at the lowest ovarian cancer treatment cost in India for our patients when it comes to diagnosis and treatment for ovarian cancer. We ensure the best ovarian cancer cure through the most advanced LINAC i.e. TrueBeam. At the same time, the cost of treating ovarian cancer is the lowest in India.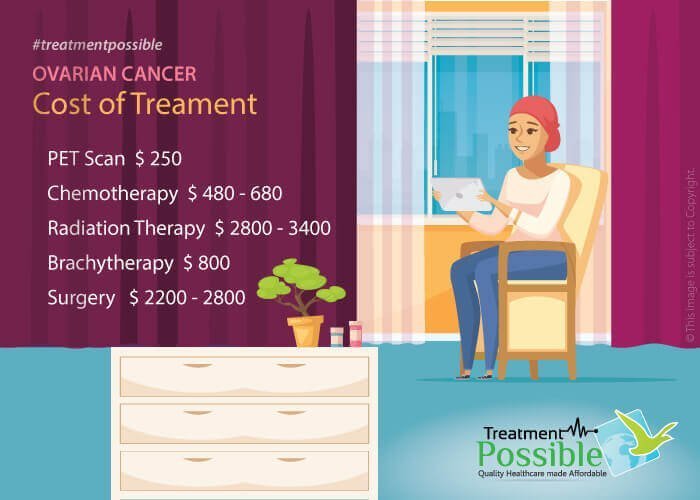 Yes. I Want To Know More About My Treatment!
Want more clarification about medical expense & treatment plan.
Get An Expert Opinion
Ovarian Tumor Treatment Stages
Ovarian cancer treatment types are differentiated according to stages. There are four main ovarian cancer stages according to the American Cancer Society model. The treatment methods are as follows:
Stage I: Be sure to detect the early symptoms of ovarian cancer for the best chance of successful ovarian cancer cure. When the cancer is diagnosed at an early stage, it is possible to save one of the ovaries and the womb if desired by the patient and she can still give birth to a child. In post-menopausal women, both the ovaries and uterus are usually removed.
During the surgery, the doctor takes samples from many places in the abdomen and pelvis to completely stop cancer. In case, cancerous cells are detected in any of the samples taken, you will need another surgery to remove all the cancerous tissue. In case it is not found, ovarian cancer surgery is usually the only treatment required and chemotherapy is not given.
Stages II, III, & IV: Treatment for ovarian cancer in the second, third, and fourth stages exists, but giving birth afterwards will prove difficult, if not impossible. If cancer has spread out of the ovaries, then the main treatment is surgery and chemotherapy. In the early stages of ovarian cancer, it can be cured but in more advanced stages, the purpose of surgery and therapy is to give supportive help to the patient. USD 450 is the approximate cost of chemotherapy as the treatment for ovarian cancer.
In stage one, cancer affects only the ovaries. In later stages, it spreads to the bladder, fallopian tubes, lymph nodes, liver, and spleen. The higher the stage, the farther away from the ovaries cancer spreads. Proper identification of the stage helps the hospital identify and determine the best treatment.
Ovarian Cancer Diagnosis and Survival Rate
Specialists may conduct blood tests, colonoscopy, imaging tests, biopsy, laparoscopy, or abdominal fluid aspiration to diagnose ovarian cancer. The medical history and family history of the patient are also checked. Depending on the ovarian cancer stages, adjuvant therapy is also started which is basically chemotherapy. If the cancer is diagnosed in stage 1, there is a 90% probability of surviving for at least 5 more years. It is 70% at stage 2 and reduces to 40% at stage 3. It drops all the way down to 15% or stage 4. All the more reason to seek treatment as soon as possible.
Treating Ovarian Cancer
There are five main modalities for treatment of ovarian cancer, which are:
Often times, doctors will choose more than one treatment. They will select two or three optimal modalities and start them simultaneously for treating ovarian cancer. They depend on type, stage, and grade.
Almost in all the cases of ovarian tumor treatment, surgery is a must. In the early stage of ovarian cancer, this surgical treatment is usually the best cure. In advanced ovarian cancer stages, surgery is done to relieve symptoms. Chemotherapy is usually started after the surgery. It can also be started before and continued after the surgery.
Radiation Therapy for Ovarian Cancer Treatment
Radiation therapy (radiotherapy) involves the use of high energy x-rays to kill cancer cells and shrink cancer before initiating a surgery in case of large growths. This therapy is rarely used for ovaries, but more in cases where cancer has already spread. Radiation therapy is targeted to other areas where cancer has spread, for example, if there are small cancer traces in the reproductive system. It can also help treat advanced cancer symptoms. The approximate cost of ovarian cancer treatment in India through radiotherapy is USD 2500 – 5000.
Hormone Therapy for Ovarian Tumor Treatment
Hormone therapy is required in women after the surgery as the ovaries have been removed. It is performed to avert estrogen from reaching cancer cells to slow the growth of cancer cells. They are the main seat of secretion of sex hormones. Though the adrenal gland and fat tissue compensate for the hormones still hormones are to be administered. Women usually experience hot flushes, dry vagina, nausea, vomiting, etc. after the surgical removal of the ovaries.
Treatment Possible for Treating Ovarian Cancer
Any cancer diagnosed in the early stage is curable and same is with the ovarian cancer cure. Successful treatment is definitely possible and if the cells are clear of cancer, then it is "in remission". In the very early stages of cancer, only surgical excision is required, but once it is advanced, ovarian tumor treatment becomes more difficult and the aim is mainly to relieve the patient of pain, bleeding, and blockages.
Choose Treatment Possible for ovarian cancer treatment in India. Get Free Consultation with chosen Top Ovarian Cancer specialist in India with the hassle-free arrangement of post-operative recovery care, travel, and stay. Treatment Possible will make ovarian cancer treatment possible.
Best Hospitals For Ovarian Cancer Treatment In India
Tata Memorial Hospital, Mumbai
Tata Memorial Centre (TMC) is a comprehensive tertiary care centre for cancer in India. Established by the House of Tatas in the year 1941. It is a specialist cancer treatment and research centre, closely associated with the Advanced Centre for Treatment, Research and Education in Cancer (ACTREC). The Centre is the national comprehensive cancer centre for the prevention, treatment, education and research in cancer and is recognized as one of the leading cancer centres in this part of the world.
Fortis Hospitals Mulund, Mumbai
Fortis Hospital, Mulund is a 5 times JCI accredited, 315-bed multi-speciality tertiary care hospital providing a range of diagnostic and treatment services. This hospital has achieved three times JCI accreditation (quality as per international standards) and NABH Accreditation (quality standards specified across India) and the best Orthopaedic Hospital (Indian Healthcare Awards 2011).
Apollo Hospitals, Chennai
The leading hospital of the Apollo Group was built up in 1983. The hospital has more than 60 divisions initiated by universally prepared specialists, best-in-class hospital for different wellbeing issue and forefront therapeutic strategies, that makes it the most favoured goals for patients across India and around the world.
Dharamshila Narayana Superspeciality Hospital, Delhi:
Dharamshila Narayana Superspeciality Hospital was established in 1994 and this is accredited by NABH and NABL. It is India's first and world′s 11th hospital which has performed Haploidentical Bone Marrow Transplantation in an adult sickle cell disease patient. This is the Only hospital in Delhi that offers Third Generation Radiation Technology i.e. Elekta Synergy VMAT with IMRT, IGRT, SBRT and SRS / SRT and Respiratory Gating Capabilities and best Treatment Planning systems like Monaco, CMSxi0, ERGO++ and Plato.
MPCT Hospital, Mumbai
MPCT is the second largest multispecialty hospital with 100 beds at Navi Mumbai. MPCT hospital has most advanced PET Scan of GE, which is used for diagnosis and treatment of cancer. It offers the most advanced linear accelerator of the world called as true beam for the treatment of cancer. The hospital has special software and hardware for lung cancer and it has software to treat smallest brain tumors. It has 24 Channel brachytherapy for the treatment of cervical cancer & breast cancer.
---
Frequently Asked Questions (FAQ's):
What is the survival rate and prognosis of ovarian cancer?
When ovarian cancer is found at an early stage then the average survival rate at five years is very good (about 92%).
What are the types of ovarian cancer?
There are three types of ovarian cancer:
Epithelial: These tumors develop in the layer of tissue on the outside of the ovaries.

Stromal: These tumors grow in hormone-producing cells.

Germ cell: These tumors develop in egg-producing cells.
How do you detect ovarian cancer?
There are 2 tests to screen for ovarian cancer; they are transvaginal ultrasound (TVUS) and the CA-125 blood test. A transvaginal ultrasound (TVUS) is a type of pelvic ultrasound used by doctors to examine female reproductive organs. This includes the uterus, fallopian tubes, ovaries, cervix, and vagina. "Transvaginal" means "through the vagina." This is an internal examination.
What reduces risk of ovarian cancer?
Certain factors may reduce a woman's risk of developing ovarian/fallopian tube cancer:
Breastfeeding: The longer a woman breastfeeds, the lower her risk of developing ovarian/fallopian tube cancer.

Pregnancy: The more full-term pregnancies a woman has had, the lower her risk of ovarian/fallopian tube cancer.

Surgical procedures: Women who have had a hysterectomy or a tubal ligation may have a lower risk of developing ovarian/fallopian tube cancer.
Where does ovarian cancer spread first?
Metastatic ovarian cancer is an advanced stage malignancy that has spread from the cells in the ovaries to distant areas of the body. This type of cancer is most likely to spread to the liver, the fluid around the lungs, the spleen, the intestines, the brain, skin or lymph nodes outside of the abdomen.
Who is at high risk for ovarian cancer?
Women over the age of 50 have a higher risk, and most cases of ovarian cancer occur in women who have already gone through the menopause.
What triggers ovarian cancer?
The genes known to increase the risk of ovarian cancer are called breast cancer gene 1 (BRCA1) and breast cancer gene 2 (BRCA2). These genes also increase the risk of breast cancer.

---