Verified By: Dr. Akhil Tawari (MBBS, MS (Orthopedics), DNB (Orthopedics), and D-Ortho)|Updated On March 4, 2020
What Is Scoliosis?
Scoliosis is a type of abnormality of the spine in humans wherein the spine bends in one direction causing loss of alignment. The curve may be in the shape of a C or an S. Scoliosis is a disease that starts to show effects from early teenage, however, there are not any major visible scoliosis symptoms.
There are two major types of scoliosis namely Degenerative Scoliosis and Idiopathic Scoliosis. The visible Scoliosis symptoms include the uneven fitting of clothing or sideways curvature of the body, change in the way of walking and hip alignment, difficulty in breathing, pain in the back, cardiovascular problems, and much more.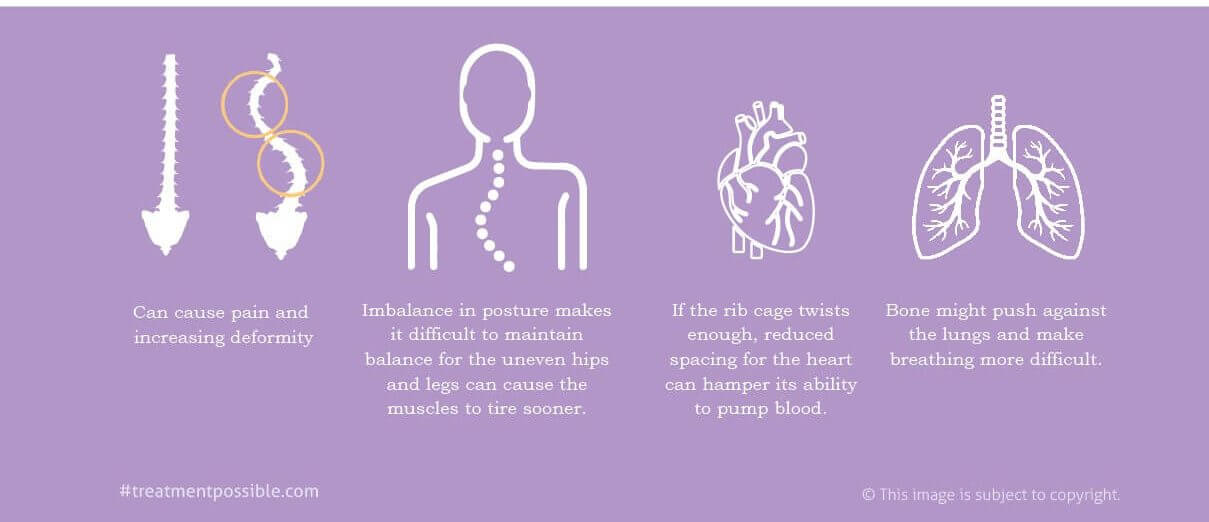 The Scoliosis condition, if diagnosed early can be treated by the wearing of spinal braces so that the curve does not progress into something else. However, if the spinal curvature cannot be controlled with a body brace, Scoliosis spine surgery is prescribed. The aim of the scoliosis surgery is to help reduce the curve, stop the curve from progressing any further and also help the person maintain their balance.
Before undergoing any surgery make sure that it is the right treatment based on your spinal conditions and spine injuries if any suffered earlier. The degree of the medical condition and the location of the curve are two very important things to keep in mind before undergoing spinal surgery. It is also not a good idea to go for the surgery if the spine is still growing. 
How does Scoliosis Surgery work?
There are many different procedures that come with Scoliosis Spinal Surgery. However, these three surgical options are the most common and effective Scoliosis surgical treatment procedures: 
Spinal Fusion Surgery: This procedure is also known as Scoliosis Fusion and involves the fusion of a few vertebrae so that they cannot bend anymore and can now grow together as one vertebra. Various instruments like rods, wires, and hooks are used to achieve this. This is one of the most effective surgical procedures for scoliosis.
Growing System Spine Surgery: This surgery is also known as Growth Rod Surgery and is mainly performed in growing children whose spine is still developing. A few rods are fixed into the spine by a spine surgeon to correct the curve as the child progresses to develop. This surgical approach has to be repeated every 6 to 8 months. Once the child has matured completely, he undergoes spinal fusion.
Fusion less Spinal Surgery: This method is based on the theory that if constant pressure is applied to the spine, it will start growing slower and much denser. This major surgery involves attaching screws to the outer curvature and then pulling them with a string in order to straighten the spine.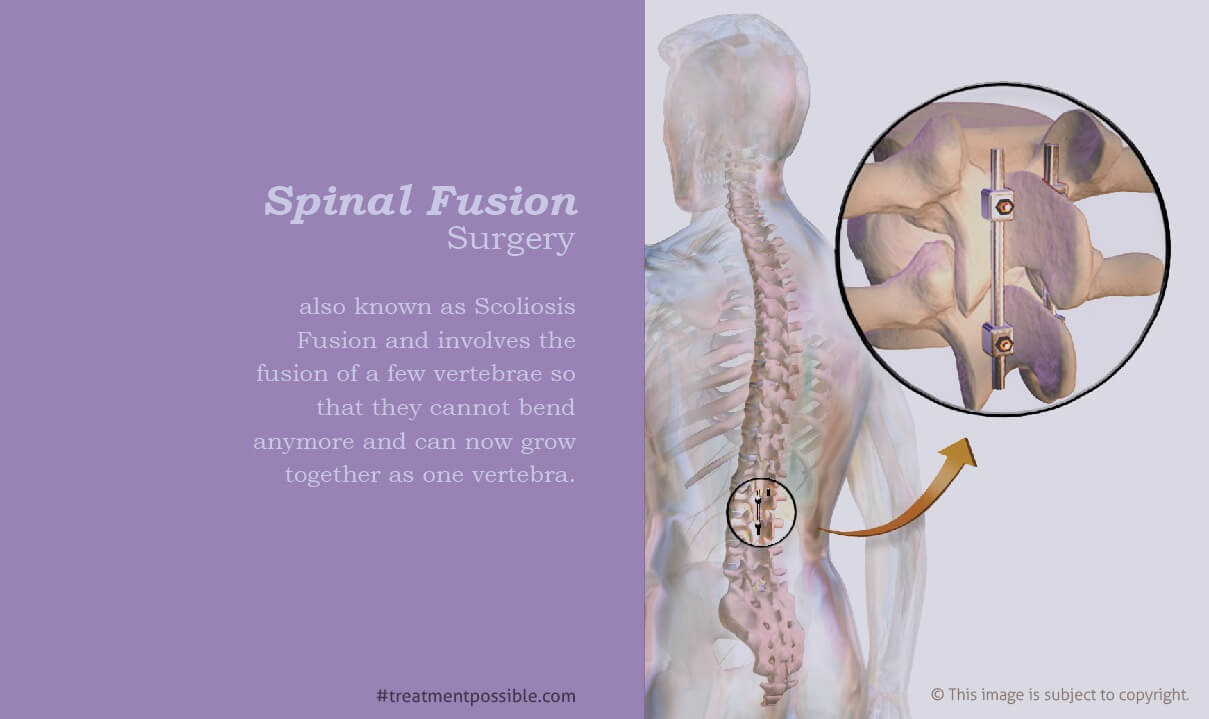 Before the medical surgery is prescribed, X-rays, MRI, and CT-Scan are done as part of the diagnosis process in order to determine the exact degree of progression of the disease. The patient's family history and any other diseases he has are also considered. The doctors may also determine the procedures on the basis of the age of the patient and whether his or her spine is still in the growing period or not.
What to expect after Scoliosis Spine Surgery is done?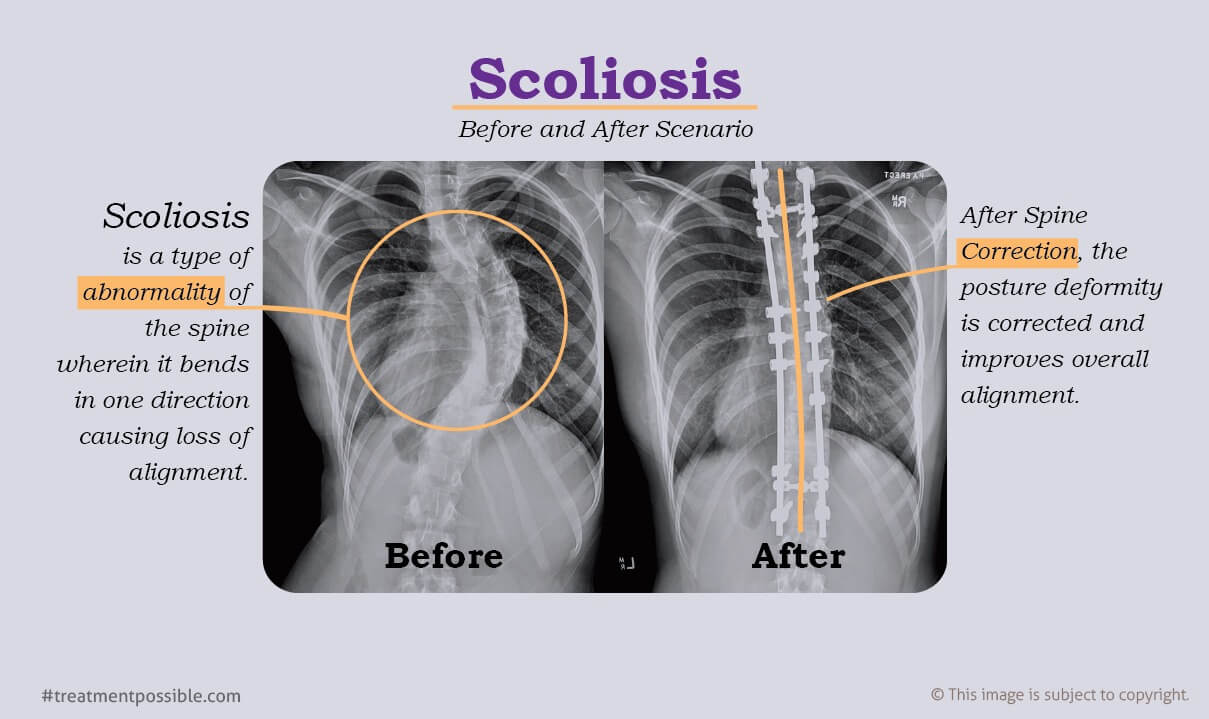 Post-surgery hospital stay is for 2-3 days due to small incision and bloodless surgery.
Subsequently, the patient is left to recover for about two weeks or more. This depends on how big the surgery was and how much area had to be opened up to be corrected. The alignment improves dramatically after the surgical procedure is completed.
However, it might take several months for the patient to restart their daily activities. The patients might also feel that their range of motion has decreased, this is normal and happens to all the people with Scoliosis Surgery.
Selam, 15 yr old teenager suffered severe spine deformity making her unable to run or walk long enough... Her bloodless Scoliosis Correction surgery lasted 9 hours concluded successfully with 24 screws & 2 rods. She started walking the 2nd day itself and recovered from pain in 2 weeks! We wish her the best!
Are there any Side Effects of Scoliosis Spine Surgery Treatment?
There are a few scoliosis symptoms and side effects associated with the Scoliosis Surgery that includes:
Back pain still remains after surgical treatment
No improvement in breathing problems.
Scarring
CT Scan shows damage to the nerves or muscles near the spine
Certain infections during operation or post-operative care
Failure of the procedure 
Attachment of wrong implants
Pain despite best medical care
Bleeding in the operated area.
How can I avail the services of Treatment Possible for Scoliosis Surgery in India?
Treatment Possible is associated with Top Spinal Surgeons in India who specialize in affordable Scoliosis Surgery. We only work with Hospitals that are equipped with OT that are compatible with complex spine surgery. Not all surgeons can perform advanced scoliosis surgery in India so Treatment Possible only associates with Spinal surgeons in India and Hospitals who are experienced in operating complex scoliosis cases on a kid as well as a grown-up and ensure a successful surgery.
The cost of scoliosis surgery in India is only in the range of USD 6000-8000 which is much lower compared to the cost of the spinal fusion surgery in the United States or Europe. Treatment Possible shall ensure high-quality Scoliosis surgery in India while guaranteeing the lowest medical services and surgery cost, especially for Scoliosis Fusion Surgery. Our understanding of the Indian Medical Services and Healthcare market and our valued relations with spinal surgeons enables us to provide the treatment at a price that is reasonable, affordable and transparent. 
The results of the Scoliosis treatment in India arranged by us have been mostly positive, however, there may be a few complications involved in cases of severe Scoliosis involving multiple surgeries. It is very important to undergo all the prescribed tests based on medical history so that the doctors can determine the perfect medical solution yet manage to keep surgery cost low.
Get Free Consultation with chosen Top Spinal Surgeons in India with the hassle-free setup of post-operative recovery care, medical travel & stay during the medical treatment. Check out more valuable information about Spinal Fusion Surgery in India by calling and talking to us. 
You can also send your medical reports for Scoliosis Spine Surgery to [email protected] for free opinions and suggestions from the best spinal surgeons for Scoliosis treatment in India. No matter what the health condition, you always get good healthcare options and cost advantage from Treatment Possible!